Auto Enrolment is the statutory requirement for an employer to:
Have an appropriate pension scheme
Arrange for most of the workforce to be automatically enrolled in the pension scheme and
Pay pension contributions into the scheme
When these requirements will need to be satisfied will be determined by reference to an employer's "staging date"
The Plan and How It Works
Find out your staging date, the date by which you must have implemented a pension scheme for your employees.  If you have a pension scheme already is it Auto Enrolment compliant?
Assessing your Costs
Identify the three types of workers to be considered – eligible job holders, non-eligible job holders and entitled workers; apply the minimum contributions laid down by the law. Which of the calculation methods best suit your business?
Impact to your Business
The financial impact on your business can be reduced by planning pay rises between now and October 2018. Have you considered the savings a salary sacrifice scheme could create for you and your employees?
Talk to your Employees
Plan communications with your employees and explain how Auto Enrolment will be provided. Take the pressure of your shoulders and let the Aspirations team explain the changes for you.
Review the System
Ensure your HR system reflects the changes in your pension policy and covers your salary sacrifice scheme. Review your payroll procedures to make sure you will be compliant and does not leave your business exposed to penalties for non-compliance.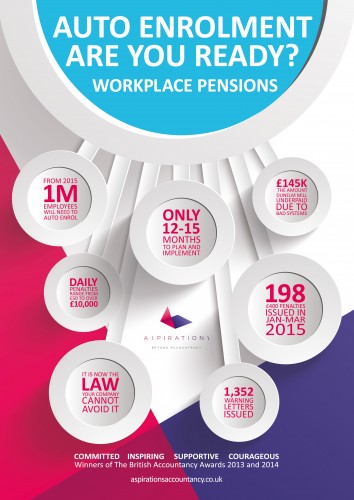 Sounds Complicated?
Aspirations have it covered!
Download our Free Guide to Auto Enrolment and let us help you through the next 15 months.
Please complete the below form to receive further details and our guide to Auto Enrolment