Get your FREE Copy of 'Do You Want to Improve Your Business Results' Book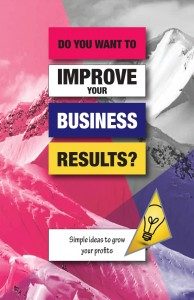 You cannot have a successful business without understanding what drives your sales and what drives your profits.
This book identifies seven key drivers for your business and how they can have a massive impact on your profits.
We explore in detail each of these seven growth drivers, how they can be implemented into your business and calculate the financial impact of each growth driver on your numbers and your life.
Finally, and most crucially, this book will help you to devise an action plan to make it happen!
'If you don't read this book, you might as well take aim and deliberately shoot yourself in the foot!  It's simple easy to understand and will transform the results of your business'  Derek Williams (Author of "WOW! that's What I Call Service"